Among the development projects earmarked at Penang Port are: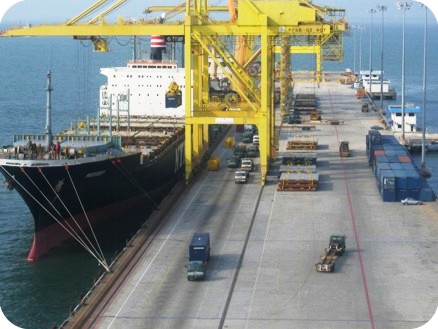 Prai Wharf
Penang Port is also planning to re-develop the old Prai wharf into a fully dedicated modern bulk terminal to handle limestones, iron ore and cement clinkers. The amount of investment is expected to be RM 224 million. The new terminal will have a depth 14 metres and will be able to handle Panamax Vessels. It will have a state-of-art conveyor belt, which will be linked directly to the customer's premises. The terminal will also be connected directly to KTMB's national grid and will initially be expected to handle two (2) million tonnes of bulk limestones, two (2) million tonnes of iron ore and 1 million tonne of other bulk cargoes.
Centralised Tankage Facilities (CTF)
The CTF project is located near to the Bagan Ajam Toll, Butterworth Outer Ring Road, encompassing an area approximately 100 acres off the nearby coast. The facilities at the CTF will include various types of oils and gas storage tanks, road tanker loading terminals, gas filling facilities, drumming facilities, blending tanks for bio diesel, lube and additives and warehousing.
The project estimated cost is approximately RM1.2 billion. This project will form a hub for moving liquid cargo in and out within Malaysian and International waters. The water draft will be approximately 13.0 metres as to accommodate vessel size up to 50,000 DWT. The total expected and estimated volume of liquid cargo to be handled by CTF is 700,000 metric tonnes per month.
Value Added Activities and Reclamation Project
A total of 1000 acres will be reclaimed at the North of NBCT which will be developed into container yards and other value adding activities such as:-
Free Trade Zones Activities (Free Industrial Zones / Free Commercial Zones)
Warehousing / CFS and Logistic Activities
Distripark and Inland Clearance Depot (ICD)
Cold Storage and Halal Hub
Centralised Tankage Facilities (CTF)